Molale the Rocker
People ask me, did you always want to be an actor? No, I wanted to be a rocker! Throughout the years, I have been blessed to have a fun and exciting life. One of the best things to happen to me was working as a radio disk jockey from '87 - '90 at KVHS-FM in Concord, Ca.


In 1987, I enrolled in a radio communications class at Clayton Valley High School. KVHS-FM is a student-run non-profit radio station that was a starting block to many radio disk jockey careers. Most student/college run radio stations are too tiny to be heard off campus. This was not the case for KVHS. Their antenna beamed radio air waves for more than 1,000 square miles and four San Francisco Bay Area counties up to Sacramento and past, to San Francisco and the San Joaquin valley. This signal strength followed by a guitar laid AOR format, brought thousands of listeners to 90.5 FM on a daily basis. KVHS frequently showed up in Arbitron ratings for the S.F. Bay Area.

Today, KVHS is still one of the most professional and largest student-run station in the world.

I had my first on-air job in winter '87 and the rocker with the chubby cheeks and a mullet hair cut was born! Those three years taught me invaluable communication and maturity skills and allowed me to "grow up" from being a seventeen year-old, zit faced kid to just a zit faced kid who could hang out with many industry professionals.

KVHS is a professional and respected radio station that promotes only a class act program for today's youth.

I performed many on-air interviews with the top "hair bands" of the 80's, and hung out backstage with the biggest names at way too many concerts. You've got to love high school!


I have had many requests to see retro pictures of me from my radio days.

Brace yourselves.......... here they are!

P.S. If you have any incriminating photos of me that should be here too, please email me.


THE FOLLOWING PHOTOS ARE FROM MY PERSONAL AND PRIVATE LIFE AND IN NO WAY ARE AFFILIATED, REPRESENT OR PROMOTE KVHS.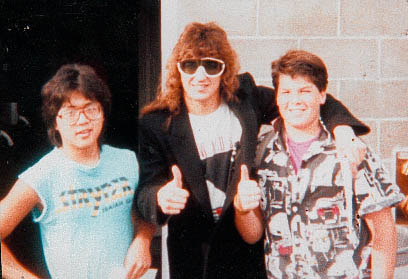 Michael Sweet - Stryper

1985 at the Concord Pavilion, Concord, Ca. This is the first concert I went to. (Left to Right)- Misaki Lu, Michael Sweet and the littlest Stryper fan. This was also my first acting role. I had to fake being sick so I could leave school early and go to the Stryper concert with my brother, Joe. I remember having third row tickets, but we snuck up to the front row. Belting out every word to each song, Robert Sweet came up to me after the show and handed me his only pair of drumsticks he used. I still have these today. In 2001, Joe and I attended the Stryper Expo reunion in California. I will forever will be a Stryper fan!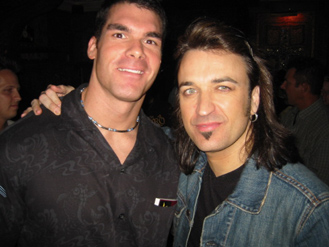 Michael Sweet - Stryper

And eighteen years later!!! 10/28/2003 House of Blues, Hollywood.

Click here for all the 2003 Stryper photos.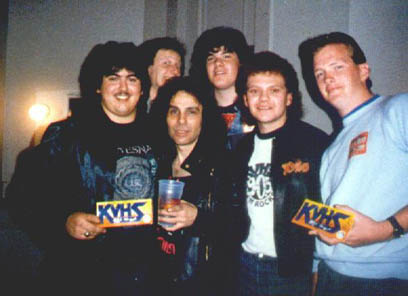 Ronnie James Dio - Dio

1987 at the Henry J. Kaiser Convention Center, Oakland, Ca. This is one of the first concerts with the KVHS crew. (Front Row, L to R)- Jim Binas, Ronnie James Dio, Chris Cady and John Yazel. (Back Row, L to R)- Some unknown poser and you know who!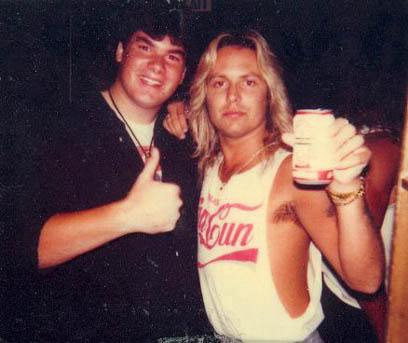 Vince Neil - Motley Crue

1988 at The Stone, San Francisco, Ca. This was backstage at a pre-Monsters of Rock concert hanging out with with Vince Neil. An amazing night, I remember doing an interview in a sound closet (the size of a small clothes closet) behind the stage with Jaymz Hetfield of Metallica. Pretty cool hanging one-on-one with one of the kings of heavy metal!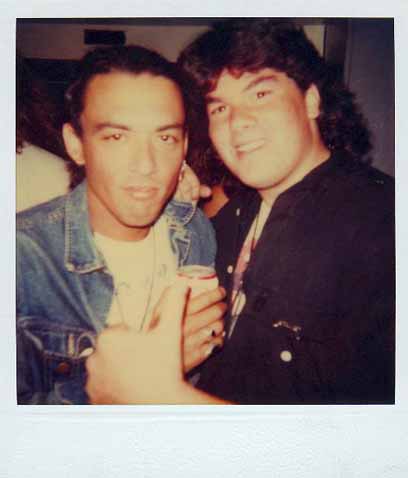 Steven Pearcy - Ratt

1988 at The Stone, San Francisco, Ca. This was also from the pre-Monsters of Rock concert. Remember the movie "Almost Famous"? Cameron Crowe's fictional character "William Miller" went to all these rock concerts with a tape deck and a microphone and interviewed the biggest bands all at the age of 15. I was a real life Cameron Crowe! I was the little fat kid with the tape deck and mic...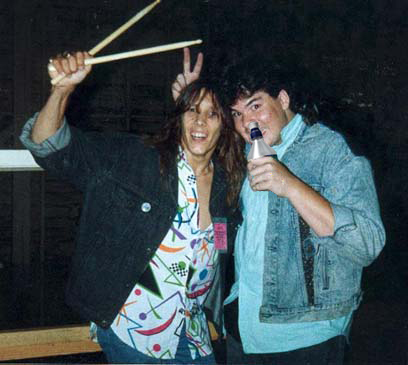 Jeff Keith - Tesla

1987/1988 at the Omni, Oakland, Ca. Tesla will always be a favorite of mine. Not only do they rock on stage, they are the coolest guys off stage. This was backstage at a concert sponsered by The Informant magazine. A pint sized newspaper that catered to the aqua net and fish net stocking lovers throughout the Bay Area club scene.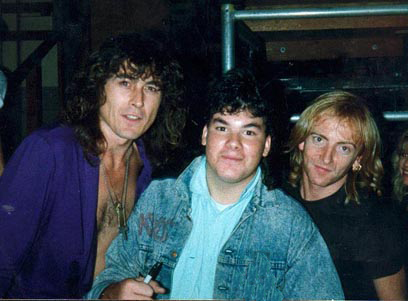 Phill Kennmore - Y&T and Phil Collen - Def Leppard

1987/1988 at the Omni, Oakland, Ca. Again hanging out backstage at The Informant magazine party. Y&T is huge in the Bay Area, but this is when Def Leppard was at the top of their career. Look at those cheecks!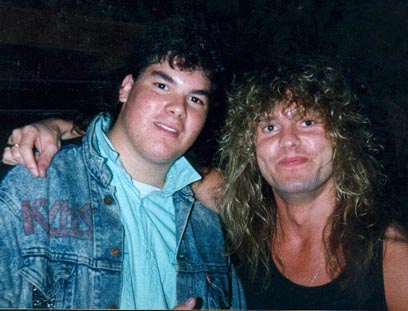 Rick Savage - Def Leppard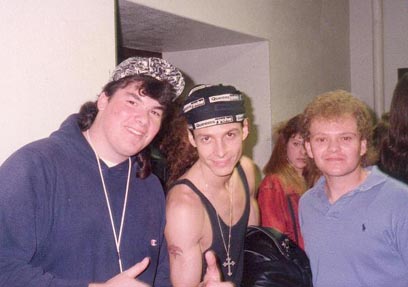 Chris DeGarmo - Queensryche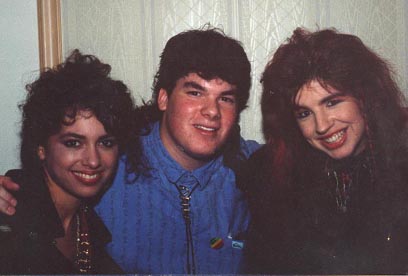 The Bangles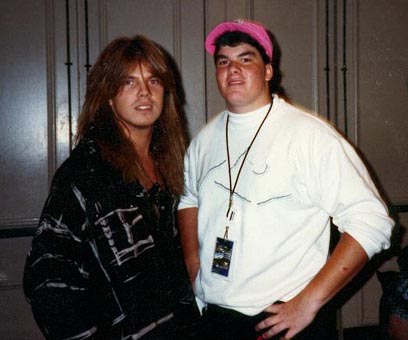 Joey - Europe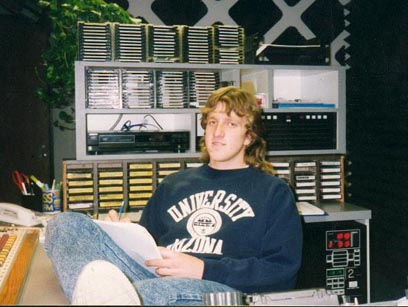 Jef (one "F") Pelizzari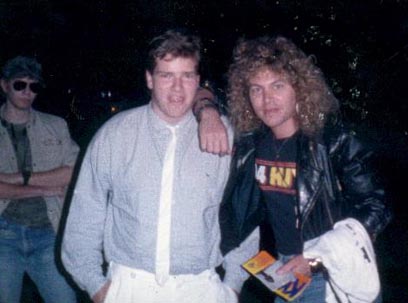 Pete "Fo-Fo" Stanovich and Dave Meniketti - Y&T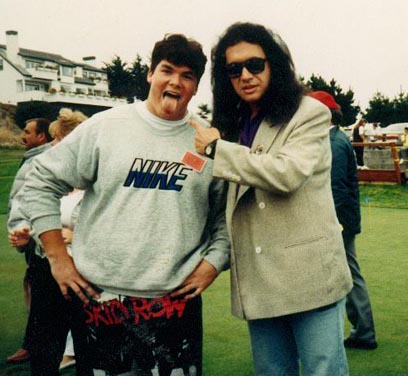 Gene Simmons - KISS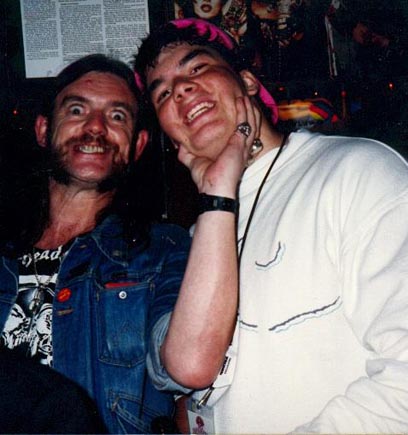 Lemmy - Motorhead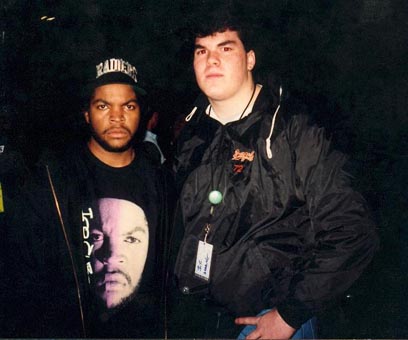 Ice Cube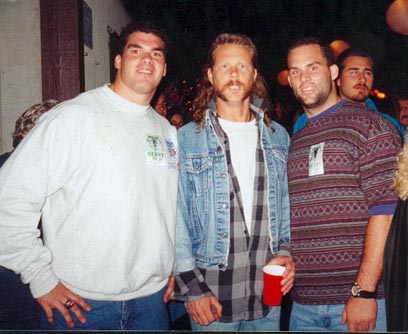 Jaymz - Metallica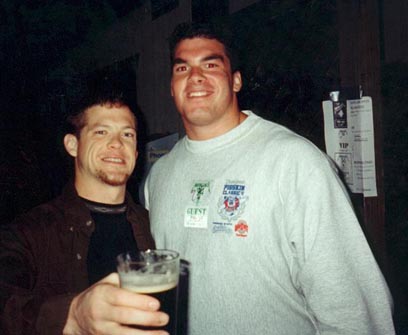 Jayson - Metallica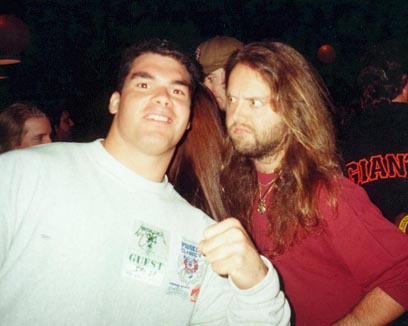 Larz - Metallica